Your Source for Asphalt Roof Replacement Services in Oak Park, IL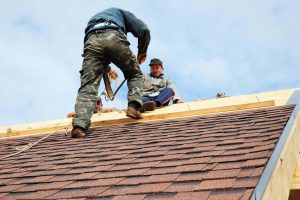 If you're looking for asphalt roof replacement services in Oak Park, Illinois, there's no better company to turn to than TAR Roofing. As a trusted roofing company that's committed to providing residents throughout the region with top-notch products and workmanship, we are the local roofers you can rely on.
Offering Asphalt Roofs from an Industry Leader
At TAR Roofing, we proudly offer asphalt roofing from GAF, a trusted brand known for its durable and attractive asphalt shingle roofing systems. In fact, GAF is the manufacturer behind North America's No. 1 top-selling shingle, a testament to the exceptional features and performance it provides. When you choose GAF shingles for your asphalt roof installation, you can expect a new roof that will look great and provide reliable durability and protection against the elements for years to come.
Professional Asphalt Roofing Services
You can also rely on TAR Roofing for professional asphalt roofing services. We offer both asphalt roof replacement and asphalt roof repair services to suit your needs, and our roofing contractors can help you determine which option is best for your home. No matter if an asphalt roof replacement or repair is right for you, TAR Roofing will ensure the highest level of workmanship to provide you with the very best results for your home.
To learn more about our asphalt roof replacement and related services, contact TAR Roofing today. We proudly serve homeowners in and around Oak Park, IL