Roof Replacement Services for Homeowners in the City of Chicago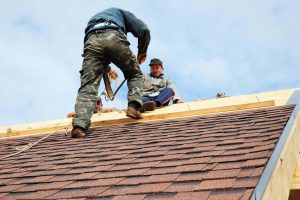 For residential roof replacement services in the City of Chicago, Illinois, and the northwest suburbs, turn to the professionals at TAR Roofing. We are an experienced roof replacement contractor that you can rely on to provide your home with a durable, attractive, and high-performing roofing system. No matter what condition your roof is currently in, you can count on us for complete home roof replacement services.
Offering a Variety of Roofing Options
At TAR Roofing, we can handle your roof replacement needs regardless of whether you have a traditional sloped roof or a flat roof on your home. For sloped roofs, we proudly offer top-of-the-line asphalt shingle roofing from GAF, a trusted manufacturer whose attractive roofing shingles stand the test of time. You'll be able to choose from a variety of attractive, dimensional shingles to find the look and style that perfectly complements your home's exterior.
For flat and low-sloped roofing, we offer modified bitumen roofing from top brands like GAF and CertainTeed. This durable material is ideal for houses and condos with flat roofs. Do you have a deck on your flat roof? Unlike other roof replacement contractors, we can detach the deck to access your roof, and then reattach the deck once the roof replacement is complete. And, if you need repairs to your rooftop deck at the same time, we can handle those services for you as well.
Professional Roofing Services From the Experts
When you turn to TAR Roofing for roof replacement services, you can be confident in the quality of both the materials we use and the workmanship we provide. Our experienced team will make the entire home roof replacement process simple and straightforward so that you'll quickly be able to enjoy a new roof over your head.
Contact TAR Roofing today to learn more about the roof replacement services we offer to homeowners in the City of Chicago, IL, and the northwest suburbs.