A Licensed & Insured Condo Roofing Contractor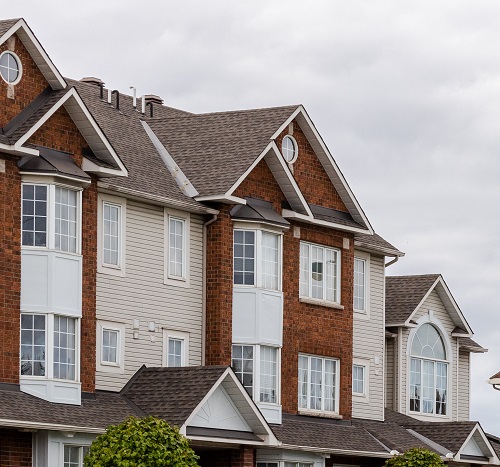 Is your condo association looking for a trustworthy contractor to repair or replace the roof on its multi-family buildings? If so, look no further. TAR Roofing is a licensed and insured condo roofing contractor serving the City of Chicago, Illinois, and the northwest suburbs. We lead our multi-family projects the same way we do for single-family homes: by offering free inspections, honest estimates, prompt solutions, and expert craftsmanship.
Condo Roofing Services
For your multi-family dwellings, we can repair the damaged roofs or upgrade them with high-performance roofing materials. We install asphalt shingles and flat roofing from GAF, a name synonymous with quality and long-lasting performance. TAR Roofing is a GAF-certified condo roofing contractor, so you can trust that our professional team will install the new roofs to perfection.
A Smooth Experience, From Start to Finish
Whether the buildings within your condo association are in need of roof repair or replacement, our unwavering commitment to customer service will ensure a painless process every step of the way. We will provide free roof inspections to accurately diagnose roofing conditions and an honest assessment of the work that needs to be done. Once we move forward, a project manager will help guide the project and answer any questions you may have along the way. When we're finished, we'll ensure that you are 100% satisfied with the result before we consider the job a success.
Get Started
Place your condo association roof repair or replacement project in our trusted hands and rest easy knowing we'll deliver exceptional service. To learn more about why we're the right condo roofing contractor for your project in the City of Chicago, IL, and the northwest suburbs, contact TAR Roofing today.