The Roof Deck Repair Company of Choice in the City of Chicago, IL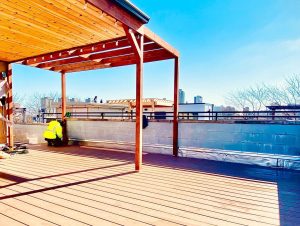 TAR Roofing is pleased to be your source for professional roof deck repair services in the City of Chicago, Illinois, and the northwest suburbs. Many homeowners throughout the city have rooftop decks where they enjoy the outdoors. However, if your rooftop deck is damaged or otherwise showing signs of deterioration, you may not find yourself able to enjoy the space the way you'd like.
Fortunately, TAR Roofing is a roof deck repair contractors that is here to help. We can provide you with complete roof deck repair services to completely transform your outdoor space.
Why Choose Us for Your Roof Deck Repair
As an experienced roofing company that has extensive experience working on flat and low-sloped roofs throughout the City of Chicago, IL, TAR Roofing has the expertise to handle your rooftop deck repair needs with ease. You can rely on us for:
Exceptional customer service – We'll work diligently to provide you with a smooth experience from the initial consultation through the finished roof deck repair, and our No. 1 priority is your complete satisfaction.
Professional workmanship – Our skilled and experienced roof deck repair specialists will ensure the highest level of workmanship while completing your rooftop deck repair.
Prompt service – You can expect us to respond in a timely manner so that you can start enjoying your rooftop deck again in no time.
Roofing expertise – If needed, we can replace or repair the flat or low-sloped roof under your rooftop deck as well. We simply detach the deck, provide the roofing service you need, and reattach your deck for simple and seamless service.
If your rooftop deck is in need of repair, there's no better company to turn to than TAR Roofing. Contact us today to get started with our roof deck repair services for your home in the City of Chicago, IL, or the northwest suburbs.