Beautiful & Low-Maintenance Vinyl House Siding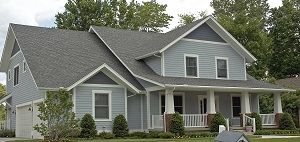 As the most visible part of your home's exterior, house siding is designed to boost curb appeal and catch the admiring eyes of passersby. But that's not all it's designed to do. Siding also plays a central role in protecting your home from the elements. If the exterior of your home in the City of Chicago, Illinois, or the northwest suburbs, is looking the worse for wear due to aging and damaged siding, turn to TAR Roofing for a solution. We can give the exterior of your home a much-needed makeover with vinyl house siding that is not only beautiful but also easy to maintain.
Benefits of Vinyl Siding
Vinyl house siding is a popular choice for local homeowners due to its vibrant color options and low-maintenance properties. The color you choose to refresh your home's exterior design will run throughout the vinyl material and will show through if the siding sustains impact damage, which means it will never need to be painted. Plus, vinyl siding is easily cleaned with a quick rinse from the garden hose, making it easy to keep your home looking its best.
Vinyl Siding Installation
As one of the leading vinyl siding contractors in the area, TAR Roofing will ensure a smooth process for your siding replacement. We'll email you an estimate within two business days of our consultation, as well as a contract that you can sign electronically to schedule your project. In fact, we take pride in offering timely home exterior solutions, so you can expect your home to look like new in no time. Throughout the process, your project manager will lead the way and answer any of your questions. And when installation is complete, we'll confirm your 100% satisfaction before we consider the project a success.
To learn more about the benefits of vinyl house siding, contact TAR Roofing today. We're a local vinyl siding contractor serving the City of Chicago, IL, and the northwest suburbs.