The Roof Repair Company of Choice in Evanston, IL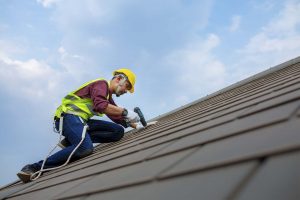 TAR Roofing is your source for roof repair services in Evanston, Illinois. If your roof was recently damaged from a falling tree branch, you recently noticed a leak on your roof, or you have any other concerns about the condition and safety of your roofing system, you can rely on us to provide you with the comprehensive services you need to enjoy a safe, reliable, and attractive roofing system over your head again. We are the roof repair company you can rely on.
Offering Roof Repairs for a Wide Range of Roofing Systems
At TAR Roofing, our roof repair contractors are highly skilled and experienced at working on a variety of roofing systems. We can provide roof repair services for both asphalt shingle roofing and flat roofing systems. If your home has a rooftop deck, we can repair that as well.
No matter what type of roof you have on your home, you can rely on us to provide a thorough roof inspection, identify any and all damage to your roof, and propose the solution that will best suit your needs. Then, we'll get right to work on your roof repair. Whether this involves replacing some missing shingles or completing a full roof replacement, our roofing contractors will ensure the highest level of workmanship from start to finish.
Get Started on Your Roof Repair Project
When it comes to roof damage, it's best to act quickly before it gets worse. Contact TAR Roofing today to get started with our roof repair services. We proudly serve homeowners in and around Evanston, IL.