Flat Roof Replacement Services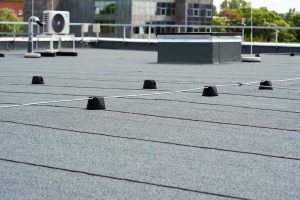 For flat roof replacement services, the company to turn to in the City of Chicago, Illinois, is TAR Roofing. Whether you're looking for a flat roof system installation or a flat roof repair, you can count on our team to provide you with the dedicated flat roofing services you need.
Why Choose Us for Your Flat Roofing Needs
When you turn to TAR Roofing for your flat roof replacement or repair project, you'll know you're in good hands from the very beginning. You can expect us to provide:
Comprehensive services – We are pleased to offer both flat roof replacement and flat roof repair services to suit your needs. We'll provide an honest assessment to help determine the option that best serves you.
Top-of-the-line materials – For flat roof replacements, we proudly offer modified bitumen roofing from trusted manufacturers like GAF and CertainTeed for trusted performance.
Exceptional workmanship – As a skilled and experienced roofing contractor, we will ensure the highest level of care and precision goes into your flat roof replacement or repair project.
A smooth and seamless experience – We'll work diligently to provide you with the best possible customer experience, and you can count on us to ensure your complete satisfaction with our services.
Get Started on Your Flat Roofing Project
As the flat roofing experts serving homeowners throughout the City of Chicago, IL, and the northwest suburbs, we can handle your flat roof replacement or repair project with ease. Contact TAR Roofing today to learn more about our flat roof system installation and repair services.