Offering Asphalt Roof Replacement Services in the City of Chicago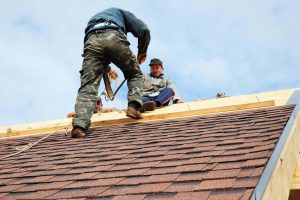 The company to turn to for asphalt roof replacement services in the City of Chicago, Illinois, is TAR Roofing. We proudly offer and install top-of-the-line asphalt shingle roofing for homeowners throughout the region, and we'd be happy to do the same for you. Whether your existing roof is past its functional lifespan, causing issues in your home, or visibly deteriorating, you can rely on our roofing contractors to provide you with the dedicated roofing services you need.
Comprehensive Asphalt Shingle Roofing Services
At TAR Roofing, we offer both asphalt roof replacement and asphalt roof repair services to suit your needs. By offering both services, we're able to ensure you receive the services that meet your unique needs, based on the condition of your existing roof.
If an asphalt roof replacement is the right option for your home, you can be confident that you'll receive a high-performing new roofing system. We proudly offer and install asphalt shingle roofing from GAF, a trusted brand and leader in the industry. You can expect to receive a new roofing system that's durable, attractive, and will stand the test of time on your home. Plus, GAF shingles are available in a variety of dimensional colors and styles to suit your aesthetic preferences and enhance the beauty of your home.
Once you're happy with your selection, you can rely on our local roofers to handle the roof installation process with precision and care. We'll work diligently to ensure your new roof is properly installed so that you'll be able to maximize its great benefits for years to come.
To get started on an asphalt roof replacement project at your home in the City of Chicago, IL, contact TAR Roofing today.